WORKER'S COMPENSATION
(SENATE BILL 665)
The Wisconsin Cheese Makers Association supports Senate Bill 665, which would set a medical fee
schedule to reduce worker's compensation costs. This legislation, which is a negotiated agreement from the Worker's Compensation Advisory Council, also increases weekly benefits. Please approve and enact SB 665 before adjourning the 2017-2018 legislative session.
Our Interest:
Wisconsin employers have taken action to protect their valued employees and to minimize the impact of worker's compensation costs by investing in safety equipment, protocols, and training. This resulted in a reduction in workplace injuries by 57 percent between 1994 and 2014. Unfortunately, no cost savings to employers has materialized, as medical costs per claim rose a whopping 450 percent in the same period.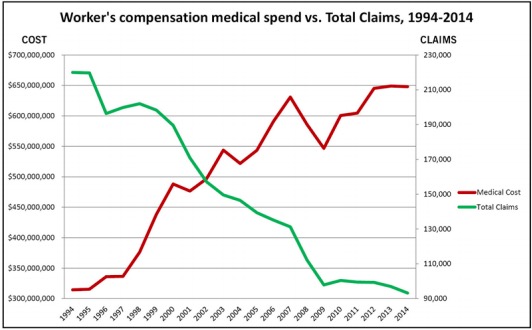 Now, we know that Wisconsin employers bear some of the highest medical costs for worker's
compensation in the nation. In fact, a recent Worker's Compensation Research Institute found them to be 47 percent higher than the national median.
Without legislative action to establish a cost-control mechanism, worker's compensation medical costs will continue to skyrocket, challenging growth within the dairy products industry and many others in the state.
---
Please direct any questions to WCMA Communications and Policy Director Rebekah Sweeney
at rsweeney@wischeesemakers.org or by calling 608-286-1001. Thank you.