Dairy Exporting Resources
Exporting is essential to the growth of the dairy industry. Start here with our helpful library of export contacts, data, and resources.
In the News
U.S. Dairy Exports Post Third Straight Record Year
2022 Was Another Record Year for U.S. Farm Exports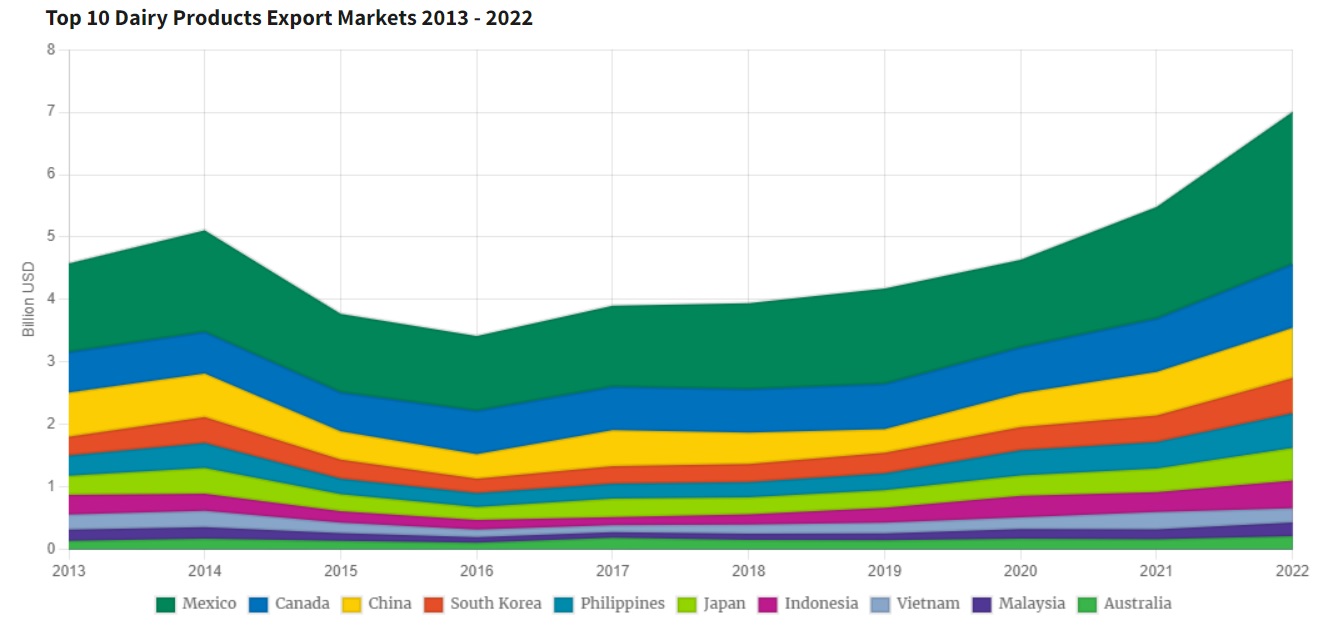 USDA Foreign Agricultural Service Data
---
Dairy Export Data
U.S. Dairy Product Exports in 2022
Wisconsin Agriculture Export Statistics
2022 International Agribusiness Center Export Highlights
DATCP International Agribusiness Center Data
---
Getting Started
Are you curious about what it would take to start an export program? Check out these helpful resources and partner organizations to learn more.
Utilize the International Trade Administration's Export Readiness assessment and other useful tools and resources.
Access more than 70 free recorded webinars and videos, ranging from market research to shipping & export documentation.
The Wisconsin Department of Agriculture, Trade and Consumer Protection's International Agribusiness Center provides technical expertise, market development initiatives and export opportunities for Wisconsin's agricultural companies and producers.
Contact the International Agribusiness Center
ExporTech is an export acceleration program supported by the Wisconsin Economic Development Corporation that helps Wisconsin companies develop a targeted export strategy.
Additional Resources
Food Export Midwest is a non-profit organization created in 1969 as a cooperative effort between 13 Midwestern state agricultural promotion agencies and the United States Department of Agriculture's Foreign Agricultural Service (FAS). its purpose is to provide a wide range of services to facilitate trade between Midwestern food suppliers and importers around the world.
Branded Program: Reimbursement program for a wide variety of international marketing activities.
Buyer Missions: connect with vetted international buyers at 20+organized events each year.
Virtual Consultations: Tap into the expertise of In-Market Representatives and explore questions related to exporting.
Market Builder: Custom research and expert feedback.
The International Trade Administration promotes trade and investment as well as compliance with fair trade laws and agreements, focusing on promoting U.S. exports, defending against fair trade and attracting inbound investment.
Funded by dairy checkoff dollars, DFW works to develop markets for Wisconsin dairy products through promotion, research, education, and connections with export partners.
USDEC is a non-profit, independent membership organization that represents the global trade interests of U.S. dairy producers, proprietary processors, cooperatives, ingredient suppliers and export traders. Its mission is to enhance demand for U.S. dairy products and ingredients by securing access and assisting suppliers to meet market needs that facilitate sales.
International Agribusiness Center (IABC)
The IABC identifies export opportunities around the world for Wisconsin's agricultural companies and producers.
Wisconsin Initiative for Agricultural Exports (WIAE)
Launched in December 2021 following successful advocacy efforts by WCMA and other Wisconsin agricultural groups, the WIAE provides funding to support the state's dairy, crop, and meat sales overseas. WIAE boosts the state's International Agribusiness Center and funds industry-run grant programs, including WCMA's Export Grant.
With support from the WIAE, WDATCP's Export Expansion Grants aim to help non-profit organizations serving Wisconsin agribusinesses to accelerate the growth of t​​he state's dairy, meat, and crop product exports.
Wisconsin Global Navigation Network (WGNN)
The WGNN is made up of government and economic development organizations, private industries and academia partners, and provides resources needed, regardless of where you are in the export process. The WGNN offers:
Global market identification for your products

Strategy and business plan development

Market analysis reports

Export logistics

Educational seminars and hands-on learning

Introductions to buyers and distributors

Trade missions
Helps Wisconsin companies expand their global market reach through targeted export strategy development and execution.
Global Business Development Program Grants
Reimbursable grants for specific expenses related to export projects.
Targeted trade ventures to build the relationships necessary for increased international sales.
Global Market intelligence available through network connections in Wisconsin and beyond.
The U.S. Department of Agriculture (USDA) aims to foster economic opportunity and innovation that will continue to help American agriculture grow and thrive in a global economy. Through research, data and analysis, trade agreements, grants and programs that add value to products, USDA works to expand and maintain both foreign and domestic markets for American farmers, ranchers and agribusinesses.
Agricultural Marketing Service
With funding from the Wisconsin Department of Agriculture, Trade and Consumer Protection and the Wisconsin Economic Development Corporation, WCMA offers grants for dairy processors interested in launching or expanding their export endeavors.
Center for Dairy Research (CDR)
Together with WCMA, the Center for Dairy Research administers the Dairy Business Innovation Alliance (DBIA), offering technical assistance and grants to dairy farms and businesses in Illinois, Iowa, Indiana, Kansas, Michigan, Minnesota, Missouri, Nebraska, Ohio, South Dakota and Wisconsin. The DBIA also provides market intelligence on export opportunities for dairy businesses in the region.
An export acceleration system for achieving profitable growth, a national export assistance program that offers a structured, yet customizable, process that guides companies through every aspect of export growth. At the completion of the program, each company will have developed its own international growth plan and accelerated export sales process.