Scholarships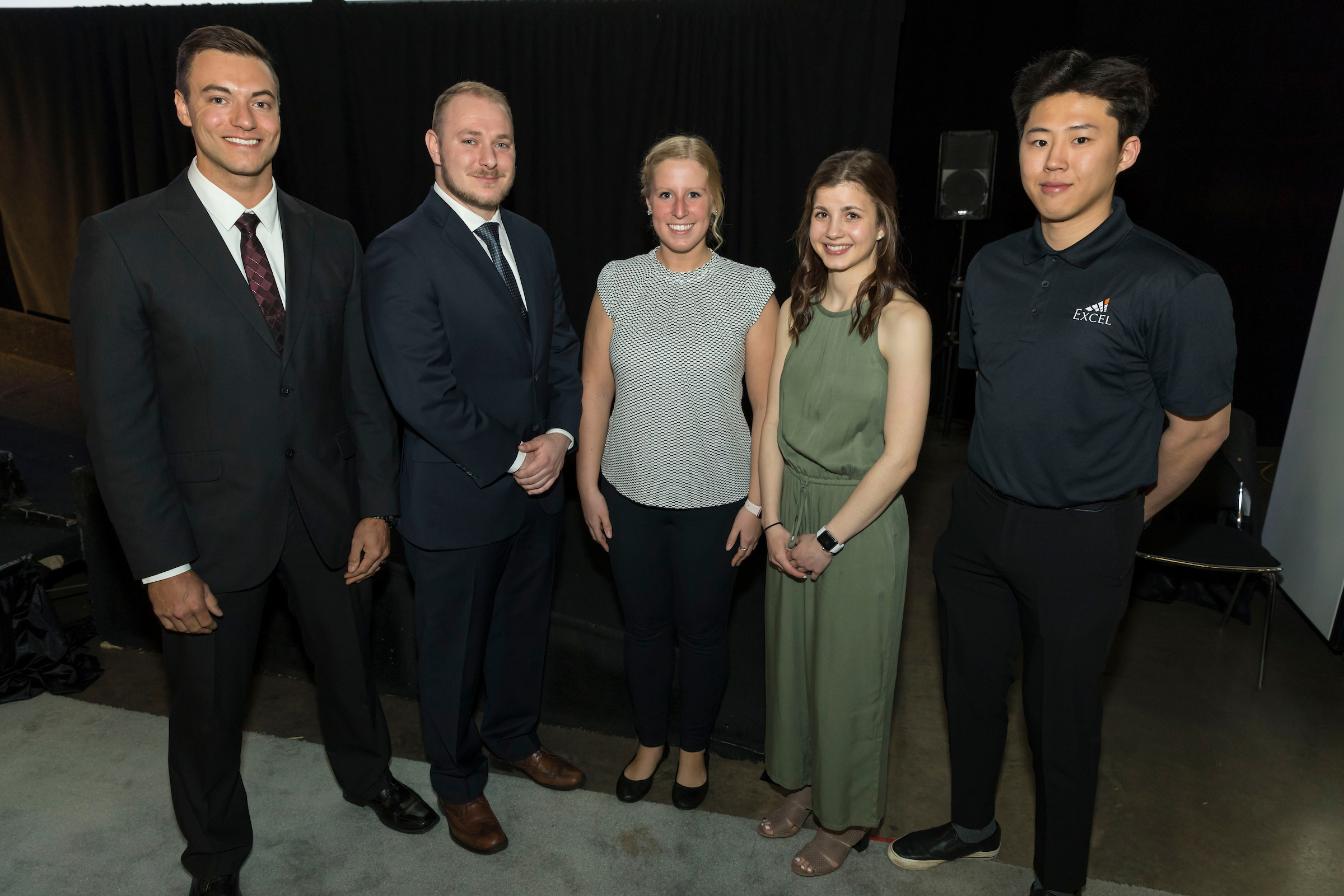 WCMA's student scholarships are an important part of the Association's investment in the industry's future leaders.
Each year, five scholarships worth $3,000 each are awarded to students connected to the industry. WCMA encourages those studying at technical colleges and at four-year colleges and universities to apply.
The 2019 Student Scholarship Recipients are pictured from left to right: VanderKelen, Eckerman, Haumschild, Franke, and Yoon
Winners of the 2019 Mike Dean Scholarships:
Chris Eckerman, a product development specialist at Agropur in Appleton, Wisconsin, is pursuing a Master of Business Administration from University of Wisconsin-Eau Claire, and maintains a 4.0 grade point average. A licensed cheesemaker and cheese grader, Chris is expanding his business skills to enhance his career within Agropur.
Emily Franke is a dairy science student at University of Wisconsin-Madison active in Association of Women in Agriculture, Badger Dairy Club and Collegiate Dairy Judging. Emily's father, Scott Franke, is employed at Grande Cheese Company and, this summer, Emily will serve as a milk marketing intern at Grande, as well.
Winners of the WCMA Supplier Student Scholarships:
Morgan Haumschild, a high school senior, is set to attend the University of Wisconsin-River Falls to study dairy science. Morgan's mother, Laura Haumschild, is an employee of Roehl Transport in Marshfield, Wisconsin. Morgan is a member of 4-H, Future Farmers of America, and the Wisconsin Junior Holstein Association, and she has earned a grade point average of 3.967.
Paul VanderKelen, a six-year employee of HART Design and Manufacturing, Inc. in Green Bay, Wisconsin, is pursuing a Bachelor of Science degree in Mechanical Engineering with a grade point average of 3.935. Paul plans to continue working for HART following his graduation in May 2020.
JunHyuk Yoon, an intern at Excel Engineering in Milwaukee, Wisconsin, is attending the Milwaukee School of Engineering to earn a degree in Architectural Engineering. JunHyuk is on the Dean's List, and is set to graduate in May 2020.
Questions regarding scholarship opportunities may be directed to WCMA Office & Member Service Manager Sara Schmidt.
Click Below to Download Application Forms