WCMA recognizes the importance of employee training programs for workforce development and retention. Each year, our Association offers more educational opportunities than ever before, and we invite you to participate.
WCMA Front-Line Supervisor Training
WCMA has opened registration for its popular Front-Line Supervisor Trainings now set for early 2019. The classes, offered in partnership with Madison College, are high-quality, low cost opportunities for industry employers not only to train, but also to retain their most valued workers.
WCMA will offer Front-Line Supervisor Training-Part A, focused on leadership essentials, including decision making and problem solving on Tuesday, February 12 in Madison. Front-Line Supervisor Training-Part B, which explores the impact of emotional intelligence, coaching, and performance feedback, will be held on Tuesday, March 12, also in Madison. WCMA will offer Front-Line Supervisor Training-Part C, focused on personal productivity and managing workplace stress, in two locations. Click here for information about Chippewa Valley Technical College-Gateway Campus offering in Eau Claire on Tuesday, March 26. Click here for more on the offering in Madison on Tuesday, April 9.
Note that classes – particularly those offered in Madison – sell out quickly, as they are capped at 22 participants. The classes that make up WCMA's Front-Line Supervisor Training are offered à la carte, and can be taken in any order. Tuition costs just $129 per participant for courses hosted in Madison, and $159 for courses offered in other locations (most commonly, Eau Claire). Materials, instruction, and meals are included.
WCMA Learning to Lead Series
Spurred by industry requests, WCMA is now offering a training program specifically designed for mid-level managers, or employees who are transitioning to such positions.
The Learning to Lead management training series will be offered in partnership with Madison College, via three workshops, focused on the following topics: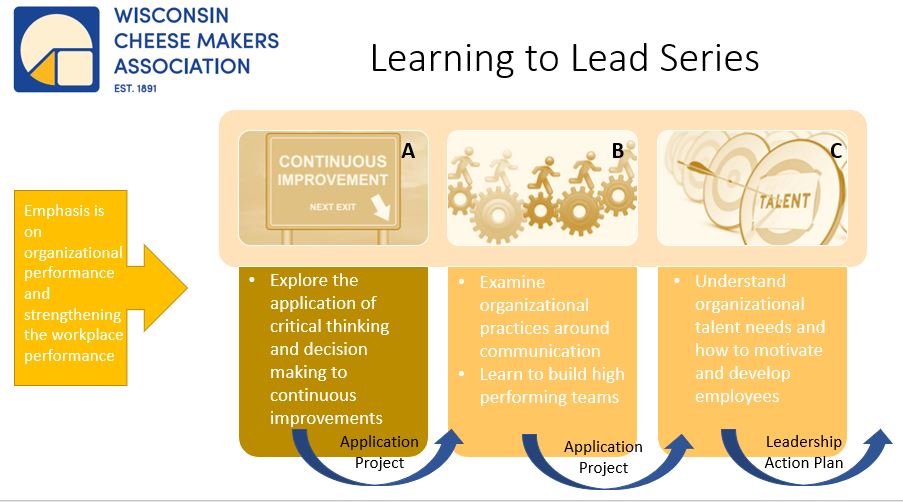 Critical Thinking and Decision Making for Managers
Effective Communications and the Building and Leading of Teams
Delegation, Talent Development, and Situational Leadership
Learning to Lead emphasizes organizational performance and how to holistically strengthen workplace performance. Participants will be asked to complete application projects between each workshop offering.
All courses will be delivered by energetic and interactive instructors, highly recommended by past participants in WCMA training programs.
Those enrolling in the program would participate in all three sessions as a cohort; the cost for the entire series, including materials, instruction, and meals, is $475 per participant. Enrollment is limited to 20 individuals.
For a complete list of trainings WCMA sponsors, supports, and promotes - along with registration information, click here. Questions regarding WCMA trainings may be directed to Communications, Education, and Policy Director Rebekah Sweeney.