Back to Events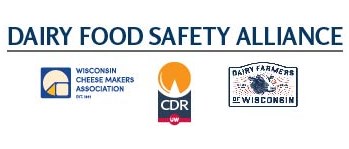 Dairy Food Safety Alliance - Facility Tour
Thursday, February 17, 2022
Event Details
Join the Dairy Food Safety Alliance on Thursday, February 17, for a meeting at the Wisconsin Farm Discovery Center and a facility tour at Pine River Pre-Pack, Inc.
Join the meeting for updates on the latest in food safety research and regulatory practices, and a chance to reconnect with your peers in dairy processing.
The Alliance, a partnership between the Center for Dairy Research (CDR), Dairy Farmers of Wisconsin (DFW), and Wisconsin Cheese Makers Association (WCMA),
---
Participation in Dairy Food Safety Alliance meetings is open to all dairy manufacturers, processors, and related suppliers.
All in-person registrants are asked to pay a $35 fee to attend, which includes the cost of a catered lunch. Registrants should arrive for check-in starting at 9:45 a.m. (CT).
Those who wish to attend virtually can register for the meeting at the rate of $25. Virtual attendees will receive an individual Zoom link to join the programming beginning at 12:30 p.m. (CT).
Contact WCMA's Kirsten Strohmenger with any questions.
Note: Tour sizes are limited and are available as first come, first served. All tour attendees will be required to wear a mask.

February 17, 2022 Agenda
(All times are in Central Time)
9:45 a.m.

Sign-in & Network with Colleagues -
Farm Wisconsin Discovery Center
7001 Gass Lake Road, Manitowoc, WI 54220

10:00 a.m.

Welcome from Alliance Partners

Kirsten Strohmenger, Events Manager, Wisconsin Cheese Makers Association
Alex O'Brien, Dairy Food Safety and Quality Coordinator, Center for Dairy Research
Adam Brock, VP Food Safety, Quality and Regulatory Compliance, Dairy Farmers of Wisconsin

10:15 a.m.

Pine River Pre-Pack, Inc. Presentation

10:30 a.m.

Travel Time - Drive to Pine River Pre-Pack, Inc.
10134 Pine River Rd., Newton, WI 53063

10:45 a.m.

Tour of Pine River Pre-Pack, Inc.

11:45 a.m.

Travel Time - Drive to Farm Wisconsin Discovery Center

12:00 p.m.

Lunch

12:30 p.m.

Dairy Management Inc.
Tim Stubbs, Sr. Vice President of Product Research & Food Safety

Innovation Center for US Dairy Updates
Food Safety Culture for the dairy industry



1:00 p.m.

WI Dept. of Agriculture, Trade & Consumer Protection
Tim Anderson, Dairy Section for Bureau of Food and Recreational Businesses

WDATCP News & Updates, Pasteurizer Operator Certification, Timer Sealer

1:45 p.m.

Hydrite Presentation
Joel Cook, Sr. Technical Manager &
Spencer Lightfield, Technical Manager

Common food safety challenges for dairy manufacturers and processors with increased automation, and solutions



2:30 p.m.

Discussion/Open Forum: Survey on Future Meetings & Communications

3:00 p.m.

Adjourn