Back to Events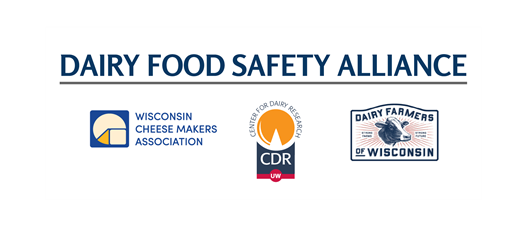 Dairy Food Safety Alliance Meeting
Wednesday, October 25, 2023
Event Details
Save the date to join the Dairy Food Safety Alliance on Wednesday, October 25 from 10 a.m.- 2 p.m. (CT) for practical presentations on the latest in food safety research and regulatory practices, and a chance to reconnect with your peers in dairy processing.
The Alliance, a partnership between the Center for Dairy Research (CDR), Dairy Farmers of Wisconsin (DFW), and Wisconsin Cheese Makers Association (WCMA), will offer registrants two ways to participate: live, in-person at the Hilton Garden Inn in Sun Prairie, Wisconsin or via a video conferencing link.
Participation in Dairy Food Safety Alliance meetings is open to all dairy manufacturers, processors, and related suppliers.
The registration fee to participate in person or virtually is $45.
Registration for in-person attendees will close on Monday, October 17.
In-person attendees will enjoy a networking lunch starting at 11:45 a.m. (CT), with the meeting continuing at 12:15 p.m. (CT) for all participants.
Virtual attendees will receive an individual Zoom link to join the programming.

---
Meeting Agenda in Brief:
10:00 a.m. Meeting Call to Order
I. Agenda Overview & Introductions
II. Inspector Insights Presentation
Survey insights from Midwestern dairy plant inspectors
III. Inspector Insights Panel
Inspector guidance and Q&A session.
IV. WI Dept. of Agriculture and Consumer Protection Updates
V. Lunch - 11:45 a.m. to 12:15 p.m.
VI. Root Cause Analysis & Quality Tools
Adam Brock, Dairy Farmers of Wisconsin
VII. Dairy Recall Tracker & Sanitation Preventive Controls
Alex O'Brien, Center for Dairy Research
VIII. Spanish Training Resources
Innovation Center for U.S. Dairy
2:00 p.m. Adjournment