Back to Events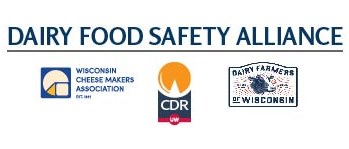 Dairy Food Safety Alliance Meeting
Thursday, September 9, 2021
Event Details
Join the Dairy Food Safety Alliance on Thursday, September 9 from 11 a.m.-3 p.m. (CT) for practical presentations on the latest in food safety research and regulatory practices, and a chance to reconnect with your peers in dairy processing.
The Alliance, a partnership between the Center for Dairy Research (CDR), Dairy Farmers of Wisconsin (DFW), and Wisconsin Cheese Makers Association (WCMA), will offer registrants two ways to participate: live, in-person at the Holiday Inn Madison at the American Center in Madison, Wisconsin or via a video conferencing link.
Presentations highlights include ongoing research projects funded by DMI, opportunities for timer-sealer certification in Wisconsin, the new federal Food Safety Blueprint, and updated Preventive Controls guidance and resources.
---
Participation in Dairy Food Safety Alliance meetings is open to all dairy manufacturers, processors, and related suppliers.
All in-person registrants are asked to pay a $35 fee to attend, which includes the cost of a catered lunch. Registrants should arrive for check-in starting at 10:45 a.m. (CT). Lunch will begin at 11:00 a.m. (CT).
Those who wish to attend virtually can register for the meeting at the rate of $25. Virtual attendees will receive an individual Zoom link to join the programming beginning at 11:30 a.m. (CT).

---
September 9 Meeting Agenda
(All times are in Central Time)
10:45 a.m.

Sign-in and network with colleagues

11:00 a.m.

Lunch Service

11:30 a.m.

Introductions, News & Updates

Kirsten Strohmenger, Events Manager, Wisconsin Cheese Makers Association
Alex O'Brien, Dairy Food Safety and Quality Coordinator, Center for Dairy Research
Adam Brock, VP Food Safety, Quality and Regulatory Compliance, Dairy Farmers of Wisconsin

12:00 p.m.

Dairy Management Inc. Overview of Current Research Projects

Chad Galer, Vice President of Food Safety and Product Research

12:15 p.m.

FDA's New Food Safety Blueprint

Nathan Anderson, Office of Food, Safety Division of Food Processing Science & Technology

12:45 p.m.

Wisconsin Department of Agriculture & Consumer Protection

Tim Anderson, Manager, Dairy Section for Bureau of Food and Recreational Businesses

WDATCP News & Updates
Inspection Information
Timer Sealer Certification

1:30 p.m.

Deep Dive: Process Preventive Controls

Review Preventive Controls & Justifications –
Mary Rollins, Dairy Supervisor, WDATCP


Raw Milk/ComBase Study –
Alex O'Brien, Center for Dairy Research


Industry Applied Example –
Amandeep Dhillon, VP Quality and Regulatory Affairs, Grande Cheese

2:30 p.m.

Open Forum/Question & Answer Session

3:00 p.m.

Adjourn