Back to Events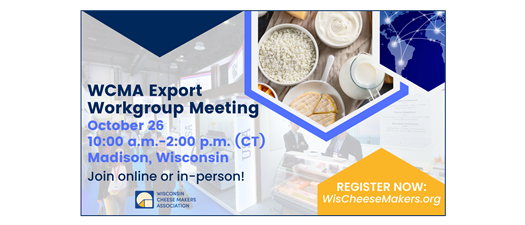 WCMA Dairy Export Workgroup Meeting
Thursday, October 26, 2023
Participants are welcome to join us online via Zoom or in person in Madison, Wisconsin.
Event Details
Effective trade show engagement is crucial for dairy processors' growing their international sales. Learn how to maximize your trade show return on investment at the next hybrid meeting of WCMA's Export Workgroup on Thursday, October 26th from 10:00 a.m. - 2:00 p.m. (CT).
All dairy processors and industry suppliers, regardless of their WCMA membership status are invited to join in-person at WCMA's offices in Madison, or online via Zoom
Attendees will gain insights on current dairy export projections and learn more about all the elements involved in a successful trade show visit, including how to select a show, the financial investment in attending, what to expect when you arrive, pre- and post-show marketing, effective follow-up, and more.
Here is a look at our agenda:
10:00 a.m.: Welcome & Introductions
10:10 a.m.: Trends and Forecasts in Dairy Exporting, presented by Stephen Cain of U.S. Dairy Export Council
10:45 a.m.: Trade Show Homework: How to Determine Target Markets and the Best Shows to Attend, presented by Dan Durand of Hidalgo Global
11:15 a.m.: Trade Show Resources, presented by Paul Sorenson of Food Export Midwest and Katie Ujdak of Wisconsin Economic Development Corporation
11:45 a.m.: Panel Discussion of Trade Show Homework and Resources, featuring Hidalgo Global, Food Export Midwest and WEDC
12:00 p.m.: Lunch & Facilitated Networking
12:45 p.m.: Strategies for an Effective Trade Show, presented by Sartori Cheese
1:15 p.m.: Panel Discussion of Effective Trade Show Strategies, featuring Sartori Cheese, MCT Dairies, Dairy Farmers of Wisconsin, and the Wisconsin Department of Agriculture, Trade and Consumer Protection
Presenters will reserve time to field attendees' questions during the meeting.
Have questions or suggestions? Please contact WCMA Grants & Business Programs Director Danica Nilsestuen.
For More Information:
Danica Nilsestuen
Grant & Business Programs Director
Wisconsin Cheese Makers Association