Back to Events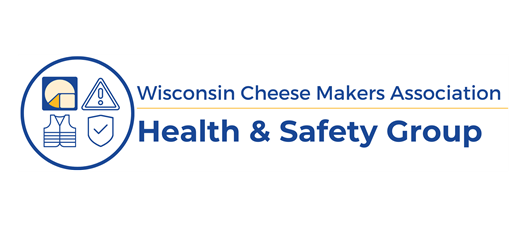 WCMA Health & Safety Group Meeting
Wednesday, March 1, 2023
Event Details
Register now for WCMA's Health & Safety Group meeting on Wednesday, March 1 from 11 a.m.-3 p.m. (CT)!
This event is offered in a hybrid format, meaning that WCMA members can join us in person at the Hilton Garden Inn, 1220 South Grand Avenue in Sun Prairie, Wisconsin, or online from anywhere in the world. All WCMA members - both dairy processor and supplier members - are welcome to participate.
Here's a look at our meeting agenda.
11 a.m.: Welcome & Introductions

11:05 a.m.: Lockout/Tagout (LOTO) Best Practices & Machine Guarding Risk Assessment Tools

Dan Trocke, WisCon Consultant, will go through a complete LOTO best practices and resources, and share a new machine guarding risk assessment tool.

12:00 p.m.: Networking Lunch

12:30 p.m.: Developing a Safety Culture in Your Workplace

R&R Insurance Loss Control Specialist John Brengosz provides tips and tools to help you develop a culture of safety in your dairy processing plant, before a panel of industry safety officers, including Emmi Roth's Zach Thayer, BelGioioso's Mark Bonovetz, and Schreiber Foods's George Jerome, offer practical insights on how implement and sustain workplace safety protocols.

2:00 p.m.: OSHA Update: Enhanced Enforcement Measures & Food Processor LEP

2:30 p.m.: Group Discussion: New Dairy Processing Industry Workplace Safety Trainings

WCMA will lead the group in a discussion of available training resources, and an evaluation of new potential offerings for dairy processing employers. Your input will help to shape these classes.
Have ideas or questions? Please contact WCMA Senior Director of Programs & Policy Rebekah Sweeney.
For More Information:
Rebekah Sweeney
Senior Director, Programs & Policy
Wisconsin Cheese Makers Association