Back to Events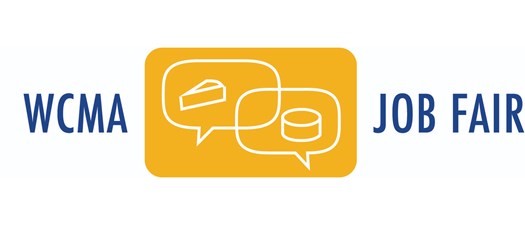 POSTPONED: WCMA Job Fair at CheeseExpo 2020
Tuesday, April 14, 2020
Event Details
The postponement of CheeseExpo to April 6-8, 2021, and its return to the Wisconsin Center in downtown Milwaukee, WI, means that WCMA intends to present the same record-setting exhibit floor to our attendees when we reconvene.
WCMA recognizes, however, that this postponement represents a unique situation for CheeseExpo hosts and our exhibitor partners. Together, we have a key guidepost in our Exhibitor Contract (Liability, p.3) noting: "Cancellation of the CheeseExpo at any time will not subject the Wisconsin Cheese Makers Association to any damages or other liability of any kind. However, the exhibitor will be reimbursed pro rata for any prepaid exhibit space fees paid." WCMA will honor this commitment to reimburse exhibit space fees paid, if the exhibitor wishes to cancel their booth at CheeseExpo 2021.
But consider this opportunity: In the coming weeks, WCMA staff will work with exhibitors to retain their booth position. To lock in your position on the exhibit floor, WCMA can retain your fees paid and honor the 2020 booth rates in 2021. If we agree together to forward your payment and position to the 2021 exhibit floor, you are good to go for CheeseExpo 2021.
For more information, please visit the CheeseExpo website.
The Wisconsin Cheese Makers Association invites employers and prospective dairy industry employees to participate in the WCMA Job Fair at CheeseExpo 2020. Connect with the emerging workforce – and prospective employers at this industry-specific event on Tuesday, April 14 from 3-5 p.m. at the Wisconsin Center in Milwaukee.
For prospective employees...
If you're ready to find your place in the storied history and exciting future of U.S. dairy processing industry, join us for the WCMA Job Fair. Meet the industry's leading employers and submit your resume for consideration! CheeseExpo is proud to host the Collegiate Dairy Products Evaluation Contest, and is working with organizers to invite student competitors from California, Colorado, Idaho, Iowa, Michigan, Minnesota, Missouri, New York, Pennsylvania, South Carolina, South Dakota, Tennessee, Washington, and Wisconsin.
WCMA is also inviting students from technical colleges and high schools across Wisconsin to help employers connect with skilled tradespeople and entry-level staff. Students and prospective employees interested in the dairy processing industry enjoy free registration to not only the WCMA Job Fair, but also to CheeseExpo exhibits and receptions.
For exhibiting employers...
The WCMA Job Fair has capacity to showcase up to 20 industry employers, and space will be reserved on a first-come, first-served basis. Registration for exhibitors is $200 per company, a fee which includes up to four passes for company representatives, a skirted table, and hors d'oeuvres and refreshments. This opportunity is open to dairy manufacturers, processors, marketers, and suppliers that have active membership with WCMA.
For More Information:
Rebekah Sweeney
Senior Director, Programs & Policy
Wisconsin Cheese Makers Association