Back to Events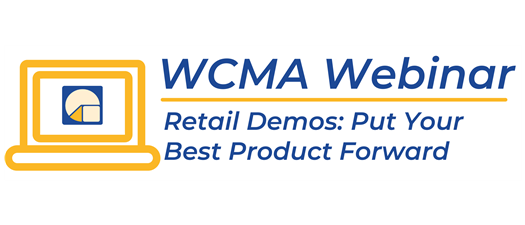 WCMA Webinar: Retail Demos: Put Your Best Product Forward
Tuesday, April 18, 2023
Event Details
Join us on Tuesday, April 18 at 1:00 p.m. (CT) for a free, members-only webinar offering strategies to put your best product forward at retail. Learn the importance of a great retail demo and gain top tips on how to boost sales by showcasing your products directly to consumers. Here's a look at our agenda:
Introduction to Retail Demos and Why a Great Demo Matters

Speaker: Tim Multerer, Vice President - Dairy Company Communications, Dairy Farmers of Wisconsin

Do's, Don'ts, and Expert Tips

Speaker: Shannon Berry, Cheese Specialist, Dairy Farmers of Wisconsin
Presenters will reserve time to field audience questions during the webinar. If you'd like to share a question in advance, please email WCMA staff by Monday, April 17 at 12:00 p.m. (CT).
This offering is the latest in WCMA's monthly webinar series. Webinar topics are driven by WCMA member feedback and cover a range of themes such as business development, communication strategies, and industry resources.
For More Information:
Grace Atherton
Communications Director
Wisconsin Cheese Makers Association