Back to Events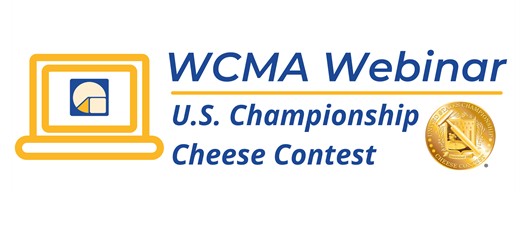 WCMA Webinar: U.S. Championship Cheese Contest 101
Tuesday, November 15, 2022
Event Details
Join us on Tuesday, November 15 at 1:00 p.m. (CT) for a free webinar focused on the 2023 U.S. Championship Cheese Contest. Learn how your company or cooperative can enter the Contest, how products are evaluated, and how you can make the most of your participation - whether or not you come away with a medal! Here's a look at our agenda:
U.S. Championship Cheese Contest Fast Facts & Entry Overview

Presenter: Kirsten Strohmenger, WCMA Events Manager

Contest Product Evaluations

Presenter: Jim Mueller, U.S. Championship Cheese Contest Chief Judge

Value of Contest Competition

Presenters:

Grace Atherton, WCMA Communications Director
Marieke Penterman, Marieke Gouda
Ryan Gillespie, Sartori Company
Presenters will reserve time to field audience questions during the webinar. If you'd like to share a question in advance, please email WCMA staff by Monday, November 14 at 12:00 p.m. (CT).
This offering is the latest in WCMA's monthly webinar series. Webinar topics are driven by WCMA member feedback and cover a range of themes such as business development, communication strategies, and industry resources.
For More Information:
Grace Atherton
Communications Director
Wisconsin Cheese Makers Association