Back to Events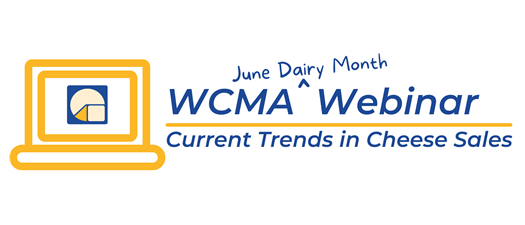 WCMA Webinar: Current Trends in Cheese Sales
Tuesday, June 13, 2023
Event Details
Join WCMA on Tuesday, June 13 at 1:00 p.m. (CT) for a special June Dairy Month edition of our free, members-only monthly webinars, focused on current trends in cheese sales. Here's a look at our agenda:
Welcome and Introduction

Speaker: Grace Atherton, WCMA

Highlights of USDA's 2022 Dairy Products Summary Report

Speaker: John Umhoefer, WCMA

Insights & Outlook on Hispanic-Style Cheeses

Speaker: Paul Scharfman, Specialty Cheese Company

Insights & Outlook on Parmesan

Speaker: Bob Greco, Cheese Merchants of America
Presenters will reserve time to field audience questions during the webinar. If you'd like to share a question in advance, please email WCMA staff by Monday, June 12 at 12:00 p.m. (CT).
This offering is the latest in WCMA's monthly webinar series. Webinar topics are driven by WCMA member feedback and cover a range of themes such as business development, communication strategies, and industry resources.
For More Information:
Grace Atherton
Communications Director
Wisconsin Cheese Makers Association