Back to Marketing Opportunities
CheeseExpo Global Online Virtual Exhibit Space
CheeseExpo Global Online Marketing Opportunities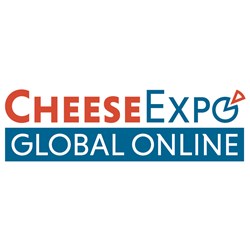 Virtual Booth Features:
Company listing and logo on CheeseExpo Global Online event website, and the virtual event platform (Pathable), and the event mobile app
Visibility in robust Search by company name, product and services, and keywords.
Live attendee engagement via video, audio or chat in booth during exhibit hours.
Ability for attendees to schedule a chat during non-exhibit hours
Extensive lead retrieval analytics.
Upload images, PDFs, brochures, white papers and other collateral.
Embed and link to pre-recorded videos.
Engage attendees with polls and surveys.
Display booth personnel contacts.
Display website and social media links.
Virtual Booth Benefits:
All Dairy Processors at CheeseExpo Global Online can register to attend virtual exhibits FREE.
Exhibitors receive 3 complimentary Full Registrations ($1,275 value).
Live video chat between attendees and exhibitors during the dedicated exhibit hall hours.
When attendees 'enter your booth,' live video, audio or chat is enabled.
Pre-schedule virtual one-on-one or group meetings with attendees via chat, audio and/or video during the live event.
Online lead retrieval – the virtual format allows access to information on attendees that visit your booth through data analytics.

Booth staff can connect instantly by directly reaching out to booth visitors.
Real-time insights offer a view showing which attendees visited their booth, how many times they visited, and which products or services caught attendee's interest and how long they spent reviewing materials.
The text content and information of any attendee that "chats" in your booth is saved and can be downloaded after the event.
Exhibitors receive leads and contact information from attendees who request information from them.

Your booth will be available to attendees for two weeks before the live event, as well as during and after.
The virtual event is available for six months after the live event allowing participants to view booths after the event is over and reach out for more information.
Training will be provided for booth setup and how to navigate the virtual event.
Platform technical support will be available prior to and during event hours.
---